A Grand Experiment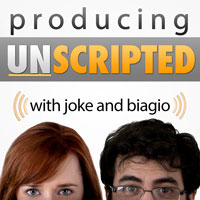 As you know, awhile back we started an experiment.
Despite warnings from our agents and lawyers, we started accepting show pitches from people willing to sign a submission agreement.
That experiment has paid off.
We credit our unorthodox outreach in helping put CAGED on MTV, GHOST INSIDE MY CHILD on BIO, and to finding our latest MTV True Life Presents: SECRETS, LIES, AND SEX, and most importantly, helping new producers and filmmakers break into the business.
But We Can Do Better For You
We often say things like "send us your show pitches" and "make great tape."
Sure, easy for us to say. We've been doing it for a decade. But statements like that aren't helpful to you.
So we've been working to make it easier for you to pitch shows to us.
Our New Podcast: Producing Unscripted
Over the last month, we've secretly been recording a new podcast called:
Producing Unscripted: Make Reality TV Shows and Documentary Series with Joke and Biagio.
The goal of the podcast is simple: to help you create, develop, pitch, and sell unscripted television and film.
Hopefully, by teaming up with us.
All Ready For You
The first five episodes are now available in iTunes.
We know you're busy, so they run just 10 to 15 minutes each, and are jam packed with insider-tips from us to make it easy for you to succeed.
We've Heard Your Questions…
…and now you'll get answers.
New episodes will be released every two weeks.
Be sure to subscribe now in iTunes, and stop by our new Producing Unscripted site with your questions and comments.
Let Us Be Your Day Job
Over the last 18 months we've taken three projects to air by teaming up with people just like you.
So why not you next?
All the best,
Joke and Biagio
Producing Unscripted Podcast