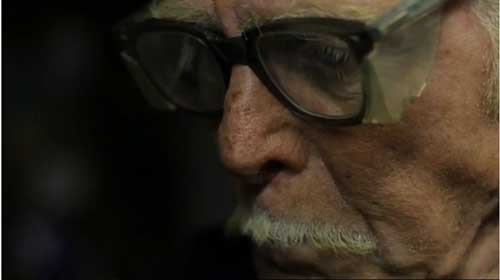 What magic is this wizard cooking up?
A young man teams up with his aging neighborhood machinist to create an almost magical piece of filmmaking gear — inspired by bicycle parts.
The sequel to Hugo?
No, the true story of Brandon David Cole (indie filmmaker, editor, giant dreamer) and his new invention, the SnapFocus Follow Focus System.
It's a revolutionary, intuitive tool for pulling focus on almost any camera you can imagine — including DSLR's, fixed-lens cameras, and even the famous RED.
DSLR: Gift and Curse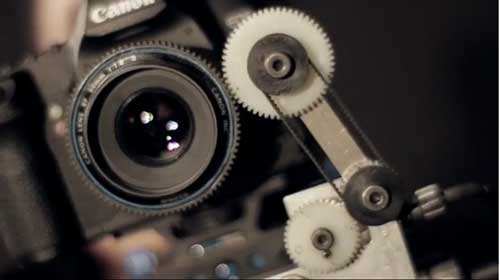 SnapFocus Follow Focus rigged to a DSLR.
If you're an indie filmmaker, you should already know about DSLR's.
In case you've missed it, a DSLR (Digital Single Lens Reflex if you want to be really geeky) is a high-quality still camera. Some DSLRs also shoot video.
Because of its very shallow depth-of-field (the ability to put objects in the extreme foreground or background way out of focus with an effect called bokeh) footage shot on a DSLR looks cinematic.
For many indies, the way to get that "film look" is to shoot on a DSLR.
DSLR Upside: looks amazing.
DSLR Downside: hard to focus your shots just right, especially if you're going for a more "hand-held" look and your focal point is constantly changing.
In fact, for much of what we do at Joke Productions (doc-style shooting) we've never seriously considered shooting on a DSLR…until now.
SnapFocus: Breaking for Great Shots
Using two bicycle break handles, Brandon (and the numerous filmmakers who've tested SnapFocus) say that within a couple minutes you're intuitively pulling focus using your "muscle memory" in a way that has never been possible until now.
According to the press release:
The SnapFocus allows filmmakers to pull focus and compose their shots while on the move, making handheld movie-quality images easy to achieve.
Brandon, founder of Midas Mount, designs all sorts of indie filmmaking gear inspired by bicycle parts. He was a pro flatland BMX rider as a teenager, and used to make BMX videos with his dad's two-piece VHS camera.
Today, you can see his love of biking reflected in the design of other Midas Mount indie filmmaking gear. Look close…it's not hard to spot.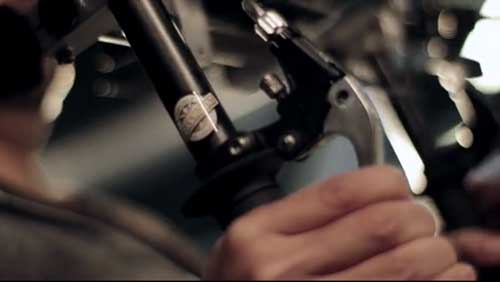 Is that guy pulling focus with BMX brakes?
Proud Supporters of Brandon and SnapFocus Follow Focus
We've known Brandon for a while…he edited for us on Scream Queens and Caged, all the while working to launch his innovative Midas Mount brand of indie film gear. (We currently use his Midas Mount Skate Rail Slider.)
Today we proudly supported his Kickstarter campaign, picking up a SnapFocus for ourselves (that thing is crazy cool) and taking advantage of the $299 Kickstarter special that runs until June 4.
Right now, Brandon is ONLY SELLING THIS on Kickstarter, and while he believes greatly in the product, it's going to take real success on his campaign to put this amazing equipment in the hands of the masses. For right now, there's one way to get this…at the Kickstarter site.
(Be sure to look at the pictures at the bottom of the Kickstarter page that show exactly what you get when you pledge, as there's LOTS of equipment configurations–make sure you get what you need.)
Check out Brandon's awesome Kickstarter video:
Support Brandon with Just a Few Dollars
Even if you're not in the market for a SnapFocus, you can still support Brandon and get great rewards like the indie film he directed, Bristol Boys.
We have a lot of faith in Brandon, and can't wait until our SnapFocus gets here some time in December.
To us, Brandon epitomizes the indie spirit, and we hope you'll support him, even if you only have $5 to spare.
Good luck Brandon…we're sure you'll hit your $20,000 goal in no time…but we're betting on six figures!