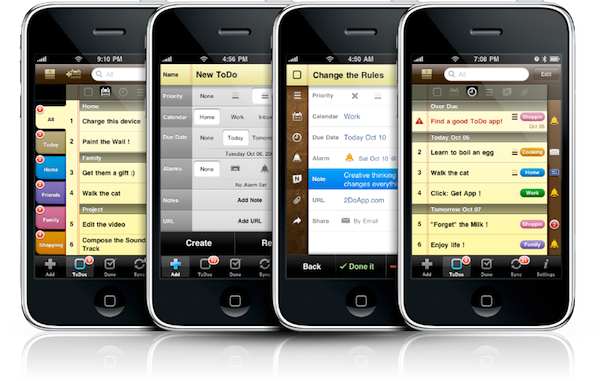 Most of you have probably heard of the book Getting Things Done: The Art of Stress-Free Productivity
by David Allen. GTD, as it's become known, is the latest, greatest way to be more productive in less time.
I've personally read the book, and used its techniques to great effect while producing TV shows like Beauty and the Geek and Scream Queens.
Actually Getting Things Done
While you can implement David's system using only pen and paper, I'm a geek. I live on my computer and iPhone. They form my "trusted system"–the place I know all my ToDo's live.
There's plenty of desktop software out there to help you "Get Things Done."
I've tried them all. Every single one. If it exists, I've tested it out. There's only one I love: a program called The Hit List.
One Huge Problem: No iPhone App
Yes, shoot me now. Some of the other apps out there have corresponding iPhone software. The Hit List, not yet. I was contemplating leaving The Hit List for one of the other GTD apps on the market, when, today, something magical happened…
2Do from Guided Ways was Released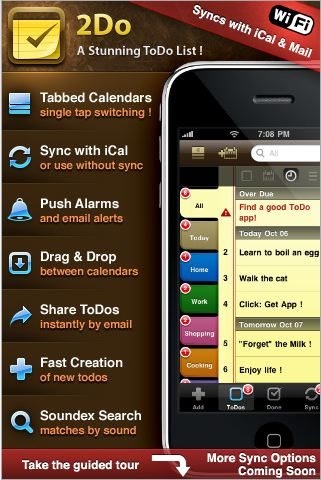 It's amazing. Having tried 5 or 6 other to-do apps on the iPhone, this one blows them all away.
Gorgeous user interface, terrific animations, easy to navigate…all the features I've always wanted.
Using the app, it feels like the good people at Guided Ways asked themselves,
What will make the user happy?
What will make the app easy to work with?
What will make it FUN to use?

Then, they went and built that app.

2Do has the Best iPhone to iCal Sync of Any Stand-Alone iPhone App. Period.

I know this, because I've been frustrated with all the rest of them.

Because it syncs with iCal (or the software we use, BusyCal) via a free download called Mac Sync Helper, this stand-alone iPhone app becomes infinitely useful.

In our case, since The Hit List can sync with iCal, and iCal syncs with 2Do, I now have a GTD system that works on both my laptop and my iPhone. Hooray!

Video Demo Coming Soon

I'm putting together a little video post demonstrating the workflow. Be sure to follow us on twitter or to subscribe to our feed so you don't miss it.

In the mean time, if you want to take a peak at 2Do, this link will take you there (Note: launches iTunes.)

Get Things Done with 2Do

We start shooting season 2 of VH1's Scream Queens in about 5 weeks. To keep me sane, I started using 2Do, today.

Update As per the question in the comment section below, this was in no way a "paid advertisement." We do occasionally link to a product we're over-the-moon about, but not for the extra 47 cents we may make here or there. The small cash generated from our links will eventually go toward product give-aways or other blog-expanding costs. Sorry for any confusion. We purchased 2DO and use it everyday.