Welcome to Joke And Biagio – the blog that helps you break into Hollywood.
Hey there! We're Joke and Biagio, and we make TV shows and films. Our work has played in movie theaters and on networks like NBC, MTV, VH1, A&E Oxygen, and IFC (just to name a few.)
When we broke into the entertainment industry, we had no idea who to talk to or where to start. Maybe you feel the same? Like you're a talented filmmaker living a million miles away from Hollywood?
Hopefully, this blog can help a little…
Opening Hollywood's Doors To You
Selling your first project to Hollywood is hard. No one wants to open their bag of tricks or spill the real secrets of their success.
Our approach is different.
We want you to become the best filmmaker you can, shaping your ideas into perfect, ready-to-sell pitches. We want you to become a huge success. And then, maybe one day you'll remember us and we'll work together on a great project.
In fact, if you're talented and hard-working, you can pitch unscripted film and television projects, reality TV, true crime and documentary series ideas to us right now.
To learn more about setting up projects in Hollywood, and pitching us your concepts, get our newsletter:
Can we help you along your path to the entertainment industry?
We hope so!
Because here at Joke And Biagio we built the blog we wish existed when we were Hollywood newbies. Hang out with us here to:
Get real advice on breaking into Hollywood
Speed up your career success by becoming a hands-on producer
Write, shoot, direct, and edit your way to a career
Read exclusive true stories from two people working in "da' biz"
Learn which computers and software programs we use to sell to and work in Hollywood
Hear fun tales from the lives of two filmmakers and producers…who happen to be married to each other
Let's keep in touch! Pick your favorite way to hang over at our subscribe page.
About The Two of Us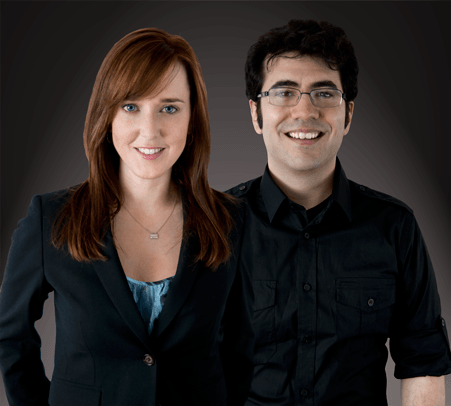 We're– you guessed it! — Joke and Biagio, a Film-and-TV-making team.  Going from one-bedroom apartment to full-fledged production company has been quite a ride. Now we're writing, producing, directing, and editing TV & film, chasing our dreams…and happily married. (Joke's the wife, Biagio's the hubby. Here's more about Joke Fincioen and Biagio Messina.)
When we were lucky enough to start making projects like like Beauty and the Geek, Dying to do Letterman, VH1s Scream Queens, and the documentary series MTV's Caged, among others, people flattered us with questions about breaking into showbiz. Fact of the matter is, every day we learn something new about the business, and that's part of what makes producing TV and film such a wild, exciting, frustrating, stressful, jump-for-joy one day bang-your-fists-in-anger the next career.
We love sharing what we're learning, through real-time updates from our sets and offices, and how-to articles on making and selling TV and film.
Be sure to subscribe here to keep up with the latest.
Best of luck with your TV and film journey!  We hope our blog can help you live your dreams.
Joke and Biagio
Get the Newsletter!