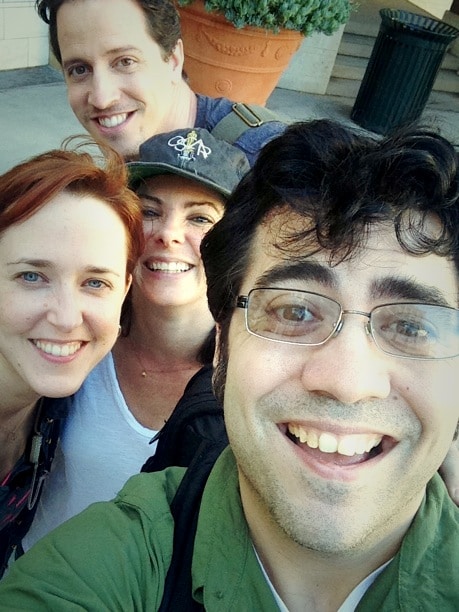 Joke and Biagio with fellow executive producers Mary Jaras and Andrew Mayne on day 1 of our 9 week shoot. In case the title didn't tip you off, Andrew also stars in our new A&E series Don't Trust Andrew Mayne.
At Last – We Can Say Something
For months we've been hinting at our giant new series that we haven't been able to talk about (though we constantly talk about not being able to talk about it on our podcast.)
Well, we can finally say what it is and where you can see it…though much will remain shrouded in mystery until our network executives turn us loose!
Don't Trust Andrew Mayne
The show's called Don't Trust Andrew Mayne, starring our good friend, master magician, and twitter buddy Andrew Mayne.
We go way back with Andrew and his producing partner Mary Jaras, and have wanted to do a show together for a long time.
In fact, you can see Andrew pictured in this post from 2009.
(Whoah, have we really been blogging since then?)
And Mary actually did us a huge solid when she took on the Co-Executive Producer role on our MTV documentary series CAGED, helping us wrangle thousands of hours of footage into a single season of TV — one we could not have been prouder to make.
Don't Trust Andrew Mayne is a major milestone in a relationship we've had with Andrew Mayne and Mary Jaras for quite a few years now, and we couldn't be happier to be working together.
Promos Premiere Tonight on A&E
Promos for Don't Trust Andrew Mayne start tonight on A&E.
Mean time, check out the official A&E Facebook page for Don't Trust Andrew Mayne. If you'd give it a like, we'd really appreciate it!
Then take a second to follow Andrew on Twitter, and if you haven't already, definitely subscribe to our podcast as we'll have lots to say about this, the most challenging show we've ever made in our lives.
And probably the most fun!
Thrilled to Be on A&E
Major props to A&E and our executive team who are supporting this show in a big way. These are the same executives who also handled our BIO series Ghost Inside My Child.
To be on on the same network that's putting out cutting edge shows like Bates Motel and Longmire is an honor.
Stay Tuned for More
Can't wait for you to see our latest series. Stay tuned for all the behind the scenes action here on the blog.
Best,
Joke and Biagio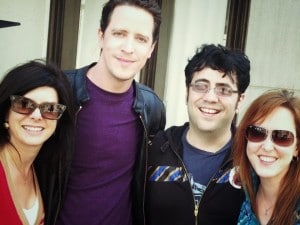 The four of us on our last day of our 9 week shoot, still smiling. Always a good sign!
Left to right: Mary, Andrew, Biagio, Joke.