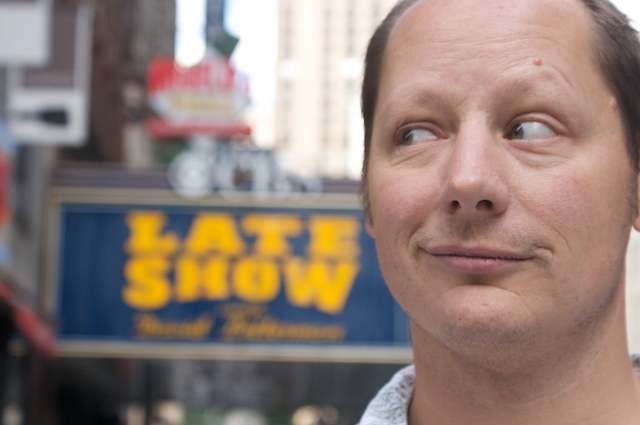 Steve Mazan is a stand-up comedian.
Steve Mazan is our friend.
Steve Mazan was diagnosed with incurable liver cancer.
But he refuses to except a dead-end fate. Steve says he's living with his cancer, not dying from it, and in fact, he's living his dream.
Steve Mazan, Our Hero
We met Steve during our days of editing actor's demo reels. Steve had us cut together some of his stand-up routines, and we became friends.
A few years later we heard the news: Steve was told he had incurable liver cancer.
We were stunned.
Remarkably, Steve decided to take it in stride.
Steve had a Dream
Steve's whole life, he had one dream: to perform on The David Letterman Show. Steve was already working as a stand-up comedian in clubs across the country, but had never fully commited to pursuing this lofty goal.
Now, doctor's were claiming he was facing a ticking clock. Many in Steve's situation would curl up and feel sorry for themselves. Not Steve. He stared cancer in the face and said, "I'm not dying because of you. I'm living despite you."
Steve Dedicated the Rest of His Life to Living his Dream
We offered to help in any way we could. Steve asked us to shoot a documentary about his journey. He wanted us to follow his battle to live his dream.
He didn't want the movie to be a pity party.
He wanted to make a fun, entertaining movie with a simple message: chase your dreams, no matter what. And by the way, to hell with cancer.
The David Letterman Show…
…made it clear they would not put Steve on the show simply because he had cancer. At one point they even wrote him a letter stating his goal could never be achieved.
As a policy, they couldn't put people on the show just because they were sick or dying. In their defense, they get hundreds of those requests a month. It would be impossible for them to make even one exception. If Steve wanted to get on the show, he'd be treated like every other aspiring comic out there.
He'd have to earn his spot.
Steve was not angry. Steve appreciated that letter. He wanted to make the show because he was good enough, not because he was sick.
A Four Year Journey
It's been a heart-breaking but inspirational tale.
Steve worked hard on his comedy routine, but it came at a price.
He dealt with mounting medical bills, bankruptcy, bouts of depression, and self-doubt. But he never gave up.
In addition to his tenacity, he had the help of his wife Denise, who supported him every step of the way. Denise insisted he not give in to the idea that cancer is a death sentence, and Steve agreed. He would choose to live with cancer, not think of himself as dying from it.
In the end, it was worth it.
Last night, at approximately 7:40 pm, Steve taped his perfromance on The David Letterman Show. It airs this Friday, September 4th.
Steve has lived his dream.
Dying to do Letterman
This is the title of the documentary we've worked on for four years. We will now begin editing it, and hope to have it ready sometime in 2010. Please follow our progress on Twitter, and keep an eye out for Steve's story…we will not rest until it is told.
The documentary is completely self-funded, but we will work to make sure the world sees Steve's story on the big screen.
We are so honored Steve asked us to follow his journey. His remarkable tale supports this simple statement Steve made to us four years ago:


It's not how much time you have, it's what you do with it.
UPDATE: Punchline Magazine has written a great story about Steve here.