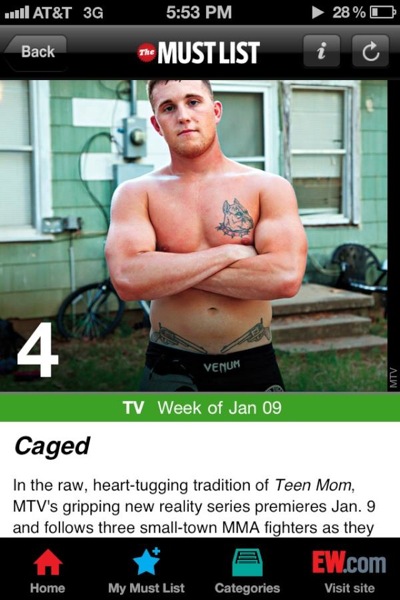 Cage fighter Wesley Branch featured in Entertainment Weekly's Must List
Caged: January 5th, 2012
We're on a plane to Shreveport, Louisiana. Tonight we get to share a few of the upcoming episodes of MTVs Caged with our main cast members and tomorrow we will throw a private screening/party for them, their friends and the community that welcomed us.
It's a privilege and an honor – thanks MTV – that we get to do this.
Can't wait to hear their reactions.
Can't wait to see their faces.
Can't wait to give them this moment.
See Episode One of Caged Tonight
TONIGHT is the sneak peek of our show after the JERSEY SHORE premiere. 12 midnight EST/PST, 11pm CST on MTV.
Tomorrow…
…their lives will not be what they are today.
Tonight they're our kids. Tomorrow they are your TV stars. Treat them well, world, they deserve it.
Follow Joke and Biagio's Caged twitter feed at @JNB_MTV_Caged
Catch Caged Mondays 10pm/9 central on MTV.