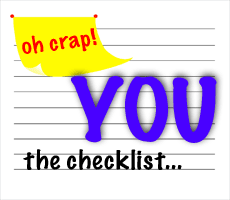 You're finally going into production. Awesome.
For months, you've planned every detail. Endured never-ending rewrites. Scoured locations. Cast meticulously.
And, if you're like us, you've done absolutely nothing for you.
Get your Affairs in Order
In our case, here we are, a mere 5 days from rolling cameras on our month-long shoot for Scream Queens season 2. For nearly 30 days, there won't be a single day off for the two of us.
Does the crew get days off? Of course. Does an Executive Producer get days off? Though we may try, the truth is usually no. Especially if you want your project to be any good.
The motto of an Executive Producer (or the lead creative) should be "I care more than anyone else, so I work harder than anyone else." This mostly means 7 day weeks, 15 to 19 hours a day. Before you bite that bullet, here's a few things to make sure you do for YOU just before you disappear down the rabbit hole:
1. Warn your friends and family
They won't be hearing from you. At all. You're in the abyss of production. Produce, eat, nap, repeat. No time for personal calls. Those close to you will take it much better if you warn them.
On a personal note, my dad's finally forgiven me for vanishing during Beauty and the Geek. With Scream Queens season 2 underway, he knows what to expect…though he still goes out of his way to make me feel guilty!
2. Pay Your Bills
Rent, anyone? How about those credit cards? Utilities? People can wreck their good credit during production simply because they're barely conscious enough to make it to set, much less remember to write checks.
If you don't have Joke for a wife (who's brilliant and never forgets to do anything, even when she's half dead) do yourself a favor, and write out all your checks in advance, seal in an envelope, and stamp. Set up a reminder in you email or calendar program so you don't forget to actually send the sealed, stamped envelope.
3. Think About Your Health
You won't be sleeping a lot, already a strike against you on your quest to live through production. Chances are, you'll be over-doing it with the caffeine, increasing the odds that your heart simply explodes along the way. Take a daily vitamin, and try to drink a bottle of water for every energy drink you slam. It'll help you keep hydrated.
If you've been putting off that trip to the dentist, do it now. No time for a root-canal during production. Probably want to make sure you see your doctor, and refill any prescriptions, too.
If, like me, you're also watching your diet, make a plan to keep you on track. Personally, I'm staying away from the craft services table, having a P.A. bring me back diet-friendly food at lunch, and I'm bringing my Atkins bars to set for when I need to snack.
4. Get Comfortable Shoes
You're about to be on your feet for hours and hours on end. We all need to be frugal, but when it comes to shoes, I say splurge. Go to a good shoe store and find something that works for your body type. I wear a water-proof Allrounder with arch-support, and I'm far less cranky after those 19 hour days.
5. Take Your Car Into the Shop
This one is our personal Achilles heel. When your entire life is spent trying to make your mark in showbiz, changing the oil and getting a tune up just don't seem to make the priority list. According to Murphy's law, this means your car will spontaneously-combust on the fourth day of a three month shoot. Avoid that. Show your wheels some love.
6. Clean Your Home, Top to Bottom
Whether you're in a studio apartment or big ole' house, the 4 – 6 precious hours you're granted at home need to be spent relaxing, preferably in an unconscious state.
If your place is a wreck (as often happens to us creative folk) it's an added layer of stress you do not need. Make the space you call home a sanctuary—whatever that means to you—before the first day of shooting. It will be the only stress free location you see for a while.
And last, our super-secret, most favorite tip of all:
7. Buy Extra Socks and Underwear
Let's face it: during production, you ain't doing laundry. The jeans and tee-shirts can air out. Socks and underwear, not so much.