We had a Baby

The many faces of our daughter, Halle Jo.
From the moment we announced our pregnancy, I was told by friends, business associates and the media how motherhood would change me.
I was frightened some magic hormone potion would get released in my body and I would no longer be me.
I'm here to tell you, I'm still me, I just have one more person I love in my life.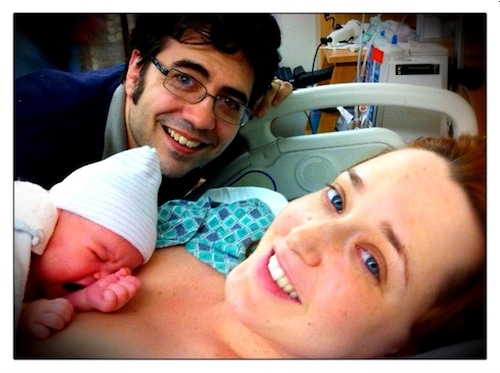 Biagio, Halle, and me — a new mom.
Now that I'm 5 weeks into motherhood, I feel more and more like the old me. But there is one change I've noticed … how I watch television. And as a TV producer, that's been quite interesting.
Seeing TV Through Mommy Eyes
First off, Sons of Anarchy premiered while I was in labor and so I didn't get to watch the episode until about 2 weeks later. Thank the TV gods – and let this be your SPOILER ALERT here —
—because when I saw Tig have to endure the murder and burning of his daughter in front of his very eyes, I was hit on an emotional level that TV has never hit me. I relate to TV characters easily, but with a newborn girl sleeping in the next room, that scene was almost too much to take.
Modern Family has never been funnier and more heartfelt to me, Parenthood went from funny and observational to being an emotional tearjerker and lots of other shows don't warrant my time anymore.
I've also noticed the abundance of kids and babies in TV commercials, something that never quite stood out to me before.
Or maybe the TV knows we just had a baby, and it's programming its advertising to us directly. If the internet can do it …
Producing TV?
Long story short, I'm still as excited about it as I've ever been. I'm excited to make TV like we've always made it … putting story first, aiming for comedy with heart, and portraying real people as the multi-dimensional individuals they are.
After all, our casts have always been our "kids," we've always felt protective over them.
Making TV: just as easy as ever. Watching TV: well, that's a whole new adventure.