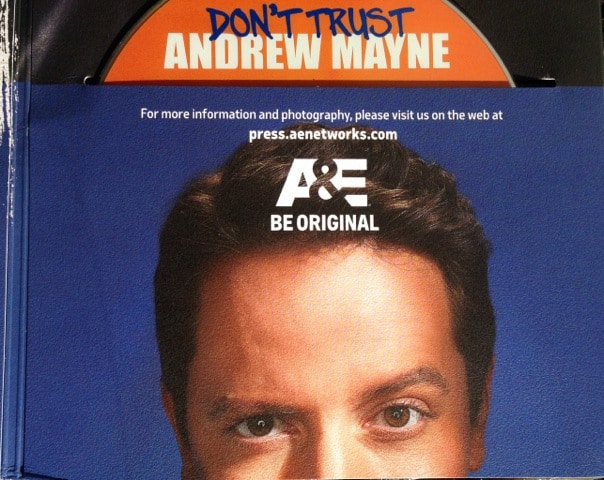 It's been an exciting week! We've finally been able to tell the world that our new show Don't Trust Andrew Mayne will be premiering on A&E on Monday, January 13, at 10pm.
The press coverage has been kind of awesome, from the official Variety press coverage:
A&E Adds Magician Reality Series to Slate
To our surprise photo appearance in TV By the Numbers:
New Series 'Don't Trust Andrew Mayne' to Premiere Monday, January 13 on A&E
And this hysterical article by Mike Vago that rips the concept of our show to shreds but makes us laugh so hard we have to share it. We love you, AV Club!
A&E Doing a Reality Show About Magic
So Much Love for our A&E Execs and Their Awesome PR and Marketing Departments
Every time you make a show and put this much love, sweat, and time into it, you hope that the network loves it as much as you do.
We couldn't be more excited about how incredibly awesome A&E has been to work with.
Our day-to-day executives truly care about the show, and A&E's PR and marketing departments have done a terrific job getting the word out. (Stay tuned — something REALLY SPECIAL is coming soon!)
From launching these clips of Andrew in action on the official Don't Trust Andrew Mayne Facebook Page: (BTW, when we were there filming, were amazed by Andrew, and still amazed now. Seriously.)
To the Don't Trust Andrew Mayne Duck Dynasty tie-in promos they let us produce:
To the Don't Trust Andrew Mayne press kits they sent out which are just about the coolest thing ever: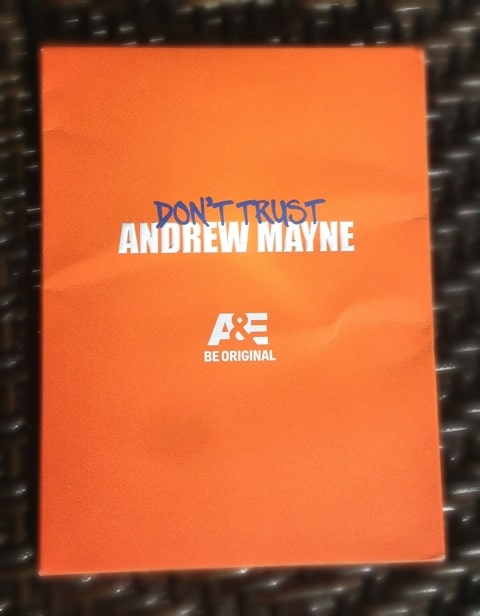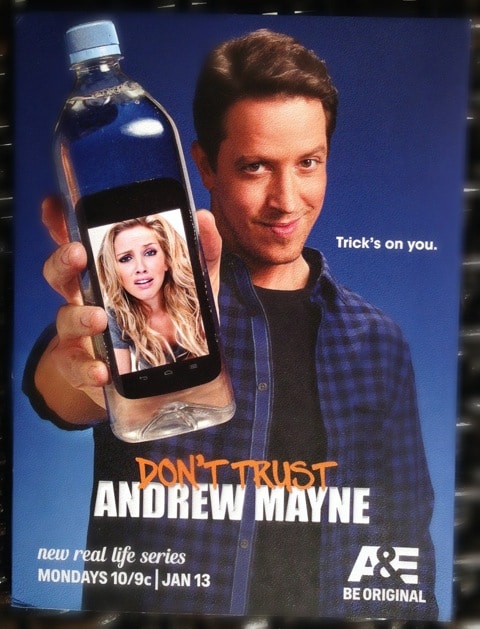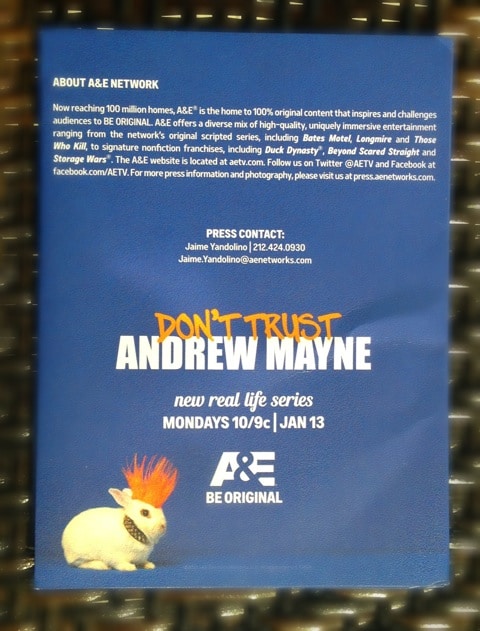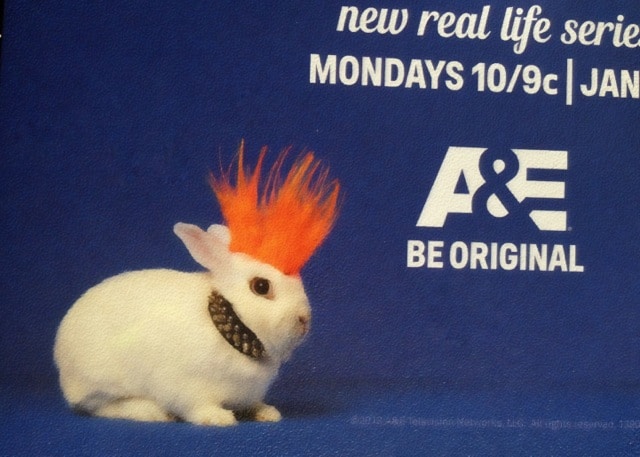 Gotta love a rabbit with a mohawk!
Since we don't have enough press kits for all of you, here's the official release:
Don't Trust Andrew Mayne Official Press Release
A&E LAUNCHES A NEW ORIGINAL SERIES
"DON'T TRUST ANDREW MAYNE"
PREMIERING MONDAY, JANUARY 13TH AT 10PM ET/PT
THIRTEEN HALF-HOUR EPISODE SERIES FEATURING NEXT-GENERATION ILLUSIONIST SHOWCASES REVENGE IN A MAGICAL LIGHT
New York, NY – DECEMBER 9, 2013 – A&E Network has pulled its newest series out of its hat. "Don't Trust Andrew Mayne," features the wildly innovative, mischief-loving magician Andrew Mayne, as he sets out to reinvent revenge.
His illusions are mind blowing, but what he loves most is helping people get even. From explosions, to disappearing cars and slight-of-hand, Andrew's charm and wit leaves unsuspecting men and women in disbelief. "Don't Trust Andrew Mayne" premieres Monday, January 13th at 10PM ET/PT with two back-to-back episodes.
Andrew Mayne has worked behind-the-scenes for some of the world's top magicians, and now it's his turn to show viewers what he's got.
On his mission to help people teach a lesson to those who've wronged them, he sets his mark for mischief and uses in-your-face street magic and large scale "knock your socks off" illusions with each assignment. With one large illusion and five smaller illusions per episode, Andrew shows us why he is one of the most prolific magic creators of the last decade.
Mayne doles out some revenge and gives wrongdoers a taste of their own medicine. Cars "melt away", iPhones wind up in a "pickle" and someone's precious motorcycle gets shot out of the sky. With more than 400 tricks in his pocket, thousands of YouTube hits, and a dozen science-fiction, fantasy and thriller books under his belt, his fans, coined the 'Mayniacs,' have followed him and his unique brand of illusion across five continents.
"Don't Trust Andrew Mayne" is produced by Joke Productions for A&E. Joke Fincioen and Biagio Messina serve as executive producers for Joke Productions. Andrew Mayne and Mary Jaras also serve as executive producers on the series. Drew Tappon and Brad Holcman serve as executive producers for A&E Television Networks.
About A&E Network
Now reaching 100 million homes, A&E is the home to 100% original content that inspires and challenges audiences to BE ORIGINAL. A&E offers a diverse mix of high quality, uniquely immersive entertainment ranging from the network's original scripted series, including "Bates Motel," "Longmire" and "Those Who Kill," to signature non-fiction franchises, including "Duck Dynasty," "Beyond Scared Straight" and "Storage Wars." The A&E website is located at aetv.com.
Stay Tuned for More Don't Trust Andrew Mayne Fun!
If you're not already doing it, be sure to like the official A&E Don't Trust Andrew Mayne Facebook Page, follow Andrew on twitter, and of course, follow us on twitter too!
See you January 13th at 10pm on A&E!