UPDATE: This post is almost about three years old now. There are certainly better ways to write a screenplay on the iPad now. That said, in the comments Doug has provided a link to a working update of the template.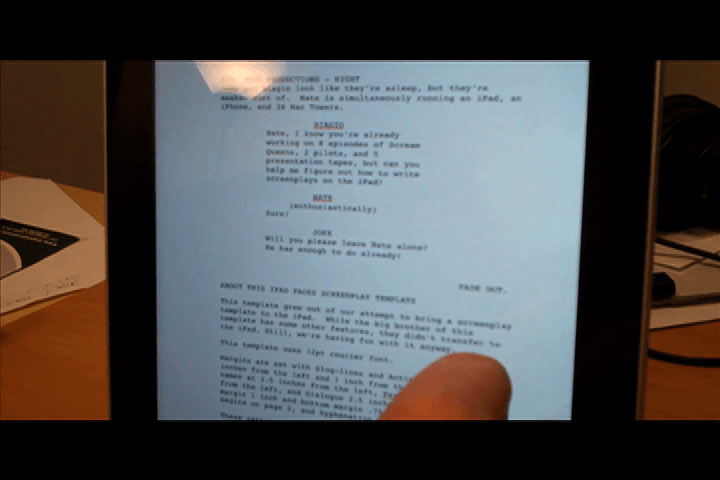 Yes, We're Geeking Out
Sure, Final Draft has announced that there will be some kind of iPad version of their screenwriting software, and Black Manna has a screenplay program that runs on the iPhone (which theoretically should work on the iPad in a zoomed in "iPhone" manner, but the company says they'll be releasing an official iPad version soon.)
In the mean time, if you have your shiny new iPad, and want to write a screenplay in full on iPad mode…what to do?

Get Pages for iPad and Try Our Template
If you have an iPad, chances are you're going to buy Apple's iWork app Pages sooner or later. At $9.99 it's not a break-the-bank piece of software, and it's sort of a must-have for iPad owners, anyway.
The full, desktop-version of Pages '09 has a screenplay template, but…alas…that template is missing from the iPad version. Besides, that template's not very good…the margins are wrong, and it doesn't work the way I'd like it to.
So We Experimented
Since I'm used to not sleeping these days, I stayed up last night and built a new screenplay template for Pages 09. We then took that template, added some hot keys, saved out a Pages doc, emailed it to Nate's iPad…and voila! It worked!
Well almost…a few things didn't come over. The style names look weird (they were chopped to the first two letters for some reason) and a there's no F-Key support on the iPad, so you can't use hot-keys to choose style elements. Still, you now have a way (albeit hacky) to write screenplays on your iPad.
Perfect?
Heck no, but we're still geeking out. I mean, what fun is a new gadget if you don't try crap with it? To write screenplays on your iPad, here's what you do:
1. Download our iPad Pages '09 Joke and Biagio Screenplay Template.
2. Email it to your iPad.
3. Open the file and get writing.

Of course, if you don't have an iPad, but would love to use a screenplay template in Apple's Pages '09, this template for the desktop version of Pages '09 will do the trick.

It has a few more bells and whistles than the iPad version, with instructions on how to use it as well. I may post a video on this somewhere down the line if there's interest.

So what do you think…just a bunch of geek nonsense? Is it cool? Am I working Nate to hard? Chime in!

UPDATE: Because a few of you have asked, here is a link to the wireless keyboard Nate's using in the video: Apple Wireless Keyboard (Retail Packaging)

[ad#Google Adsense]

Speaking of Nate, here's the video of us being way too geeky for our own good, demonstrating how to write a screenplay on the iPad:
UPDATE: Apple has fixed Pages so you can now get the menu in landscape mode, making this template much more fun to use. Thanks, Apple!